Author Day at Aldermen Elementary School was a great opportunity to inspire, and share with the 300+ children attending!  The topic for the day was 'dreaming', and we used The Day I Learned To Fly as the springboard to encourage their own dreams. We arrived first thing in the morning and set up our props, books, and slide presentation.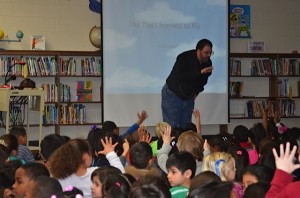 We then started greeting the children as they arrived in the Media Center for the first session at 8:30 am. My time with them was broken up into 3 sessions:
Kindergarten and 1st Grade – With this group I used a more hands-on story telling approach, making use of our props throughout the presentation to keep the children engaged. I also had some of the children join me up front to help, as we illustrated the story.
2nd and 3rd Graders – With this group I enabled them participate in the telling of the story by having them 'read' special parts together as a group, and answer questions throughout the session.
4th and 5th Grades – With this age group I started off with a Q&A about becoming an author and book writing.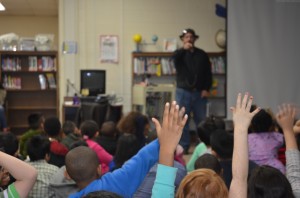 We also brought with us bookmarks, and distributed them to all of the children as a gift, and an encouragement to continue reading.
Each session had approximately 100 children in attendance.
Our sessions lasted for about 45 minutes each.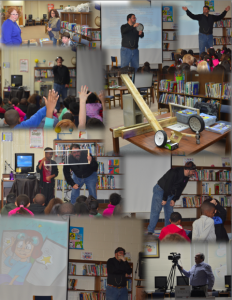 We would love to come to your school to engage and inspire your children with our story. If you would like more information about having an Author's Day at your school, please send me an email via the link at the top right of this page!
Testimonial from the Alderman Elementary School Author Day 2/7/14:
Excellent Author visit! Jeff Kennon turned an everyday story of being a kid, into a magical adventure! The students were enthralled by Mr. Kennon's animated presentation, and they have checked out all the copies of "The Day I Learned To Fly".
Mr. Kennon will bring a 'super cool' Author Visit to your  school!
Mrs. Danell "Dee" Burney, M.L.S.